Robert Tucker Is One of the Most Requested Future Trends Forecasters and Innovation Speakers in the World Today.
His enthusiasm for his topic is infectious. His behind-the-scenes examples and stories get the creative juices flowing. And it's common for audience-members to feel an overwhelming desire to take action on the ideas they've just experienced.
Futurist and innovation keynote speaker Robert B. Tucker has this effect on audiences. He's shared his Tucker Innovation Model with managers in 50 countries. Often described as "America's innovation coach," Robert shows you how to spark innovative thinking in yourself and in your team and organization using some surprisingly simple yet powerful concepts. Tucker bases his content on over twenty years of research and real-world coaching experience to help leaders develop the mindset, toolset and skillset of the innovator — necessary qualities to meet the triple challenges of growth, differentiation and disruption.
Whether your group is large or small, Robert's sessions are highly-customized, audience-interactive, humorous and high energy. As you'll see from the various endorsements on this website, his keynote speeches are often the highest-rated portion of the conference. Result: a turned-on, empowered and "can do" group, ready to get the most out of your conference.
The Power of Seeing It Coming
TEDx JacksonHole on "Unleashing Creativity"
The Future of Conferences
6 Step Process for Opportunity Discovery
Interview with CNBC's Maria Bartiromo
Live at The Economist Innovation Conference
Robert Tucker – Innovation Keynote Speaker, Futurist and Author of the Bestselling Driving Growth Through Innovation
Among innovation speakers and futurists worldwide, Tucker has been a familiar name for over two decades. His seven influential books on improving performance and leadership have been used by managers all around the world. The need for creativity and out of the box thinking in business has never been greater than it is today. Developing what Robert calls your "innovation skills" is critical to driving growth in not only your business, but also your career. With guidance from the industry's top innovation expert your organization will possess the tools and inspiration necessary to seize the initiative, increase revenue growth, improve company culture, and take action once back at the office.
"Whatever your position, profession or industry, your ability to innovate – to problem solve, experiment, dazzle customers, collaborate with others, drive growth, and above all think and lead ahead of the curve – will give you a competitive edge that can never be taken away from you."
SIGN UP FOR INNOVATION TRENDS NEWSLETTER
Wide Range of Futurist, Leadership and Innovation Presentation Options
Professional keynote speaker Robert B. Tucker has brought his practical, inspiring and interactive programs to literally thousands of conferences and events throughout the world. Tucker's highly customized presentations have received rave remarks from over 200 of the Fortune 500 largest firms. His seven books on driving growth and differentiation through improved innovation performance are used by managers worldwide. Contact us today to explore how a customized Robert Tucker keynote or seminar could add unique value to your next conference.
View all available keynotes options for innovation and futurist speaker Robert Tucker
Unparalleled Innovation Consulting Services
Thought leader Robert B. Tucker has developed a unique approach to helping companies improve their innovation performance and drive growth through their efforts. Rather than a lengthy and drawn out consulting process, Tucker believes that you and your team have what it takes to create dramatic results, increased profitability and gain a competitive advantage in your marketplace. The reality is that it's a convoluted and confusing process to undertake. What you need is an innovation expert, like Tucker, who can simplify the process and get you started in the right direction.
By using strategies outlined in his influential book, Driving Growth Through Innovation, Robert assists you and your team in leading from the top and making improved innovation performance a strategic imperative. He'll guide you through the design and implementation process of an Idea Management Process to accelerate the flow of new ideas within your organization. Furthermore, Tucker will guide you through the development of seven essential innovation skills he deems critical to discovering breakthrough ideas and dramatically improving output and performance.
No wonder 200 of the Fortune 500 companies have benefited from Tucker's expertise! Learn more about innovation consulting services.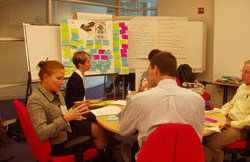 [wpv-view name="latest-article"]